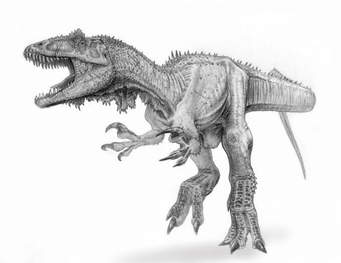 Forum Topic

Contributor
Member
765 XP
Aug-26-2019 2:18 AM
Number.10 Triceratops
This Dinosaur was from my childhood and i like this Dinosaur!It had horns that it battles with,when i was watching Dinosaur movies i always saw a Triceratops in the movie and it still showed up in movies to this day!
Number.9 Deinonychus
When i watched Jurassic Park i always liked the Deinonychus,and yes it was a Deinonychus,the director put the name Velociraptor cause it was more fearsome,it was agile and smart!I liked the scene where both of them chased the kids into the kitchen and the final battle was amazing!
Number.8 Stegosaurus
This Dino is very cool in my opinion,it was in Jurassic Park 2,i had toys of it and i basically liked how it swiped its tail around to defend itself.
Number.7 T-Rex
This Dinosaur is the first one i ever knew and my favorite one,but then i found Dinosaurs which made me change my mind about favorite Dinosaurs,it might be confusing for you guys because he's  N.7.
Number.6 Albertosaurus
This one is the Dino which made me change my mind,i liked him more than the T-Rex because Albertosaurus came first,but still this Dinosaur is amazing!
Number.5 Carnotaurus
This Dinosaur played a big part in my life,he looked very cool,his roar was very cool and finally he was fearsome.Anyways this Dinosaur was big,but this Dinosaur was about the size of a Baryonix and Albertosaurus.
Number.4 Styghimoloch
Who would you expect more than this guy,not many of you know that i like this Dino,but the skull of this Dinosaur was amazing,this Dino bashes its head into a wall to break it,its like a bulldozer hitting a wall!This Dino is fast and cool!
Number.3 Giganotosaurus
This Dino is the one that made me think that other Dinos can defeat the T-Rex and it was bigger than the T-Rex,more fearsome than the T-Rex and cooler than the T-Rex in my opinion.It also hunts in packs which made it even stronger.
Number.2 Spinosaurus
Spinosaurus was the Dino that killed the T-Rex and had a scary roar,the spine on his back made him even cooler,but usually i was afraid of this Dino and never liked him,but now i like him,his skeleton looks like the real Dino,it also was bigger than the T-Rex and it also had bigger arms,and thats why i like him!
Number.1 Allosaurus
This Dino is my favorite because he is agile,strong,he hunts in packs and because he looks cool,he was a big part of my childhood!I always liked him,i never said anything bad about him,he was the coolest Dinosaur in my opinion and the most fearsome!
14 Responses to My Top 10 Favorite Dinos!
Add A Reply
Sign in to add a reply to this topic!