Predators of Jurassic World (Art Thingie)
4 Replies
Add A Reply
Forum Topic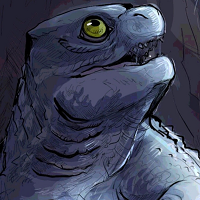 Noob
Member
0 XP
Feb-25-2015 1:41 PM
     Jurassic World is home to the world's most formidable predators of the land. It is difficult to comprehend the size, the tenacity, the weight of their teeth! And now, with the recent arrival of our greatest inhabitant yet, we at Jurassic World are proud to announce that we are holding a competition! Starting March 1st, we will be placing plastic models of Dimorphodon and Procompsognathus randomly all over the park, and if you find one of the many plastic models, you will be able to bring as many friends and family members as you wish to get up close to 5 of our amazing creatures! You will be able to train the Velociraptor, communicate with updated technology with our Alpha T.rex, and manually feed the calamitous Indominus! The contest
will end on July 15th. What are you waitingfor? Get hunting!
     In the future, I may upload early concepts of the movie, which primarily are hypothetical illustrations of Indominus. Be sure to leave constructive criticism at the bottom for any opinions on my work. Thank you and goodnight!
4 Responses to Predators of Jurassic World (Art Thingie)
Add A Reply
Sign in to add a reply to this topic!