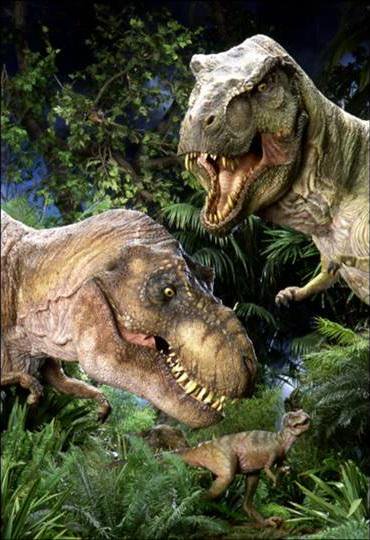 Forum Topic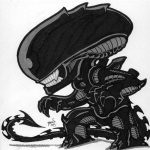 2K
Member
3029 XP
Oct-31-2016 1:59 PM
126 Million years after Tarnoc and Juta and their offspring, Theropod evolution has since diversified beyond Dilophosaurids and Coelophysoids, the early Tetanurae (Stiff Tails) of their day would later become the dominate type of theropod while the only non-Tetanurae left are decedents the Abelisauruses. Along side the Theropods; the sauropods, the ornithopods, the Thyreophora, and the Marginocephalia also have changed with in that time spanned and now we reached our intended destination.
The same familiar sun arose, casting its light on an all too familiar world. The Continents may of changed as well as its inhabitants but this is still the same earth. North America traveled further northward away from South America, South America has since broken away from Africa, Antarctica is almost at its future position at the south pole while barley holding on to its partner continent Australia, Europe is still just scattered islands while Asia is become more like modern Asia, India now free from Antarctica and Africa is traveling ever so northward towards Asia. There is no Ice Caps either.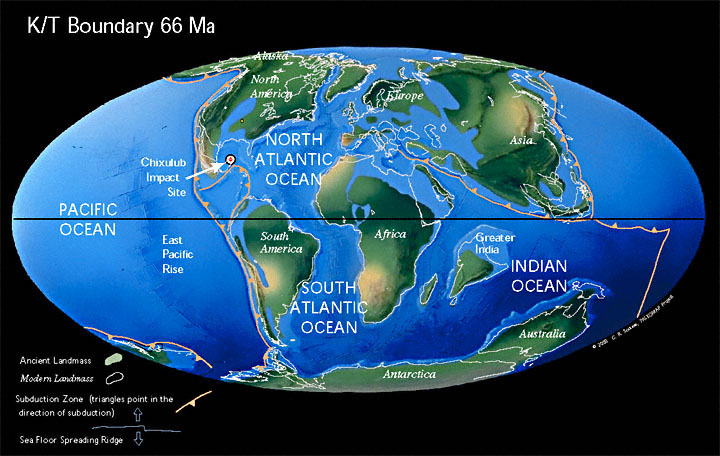 The Late Cretaceous - Maastrichtian
Region: North Dakota, South Dakota, Wyoming, and Montana.
Location: Hellcreek
Sounds of footsteps can be felt shaking the earth, a herd of Triceratops stop grazing as the adults immediately turn their tails towards their offspring while they walk back enough not to accidentally step on them as the adults form a circle around the defenseless babies using their shield-like heads to permit any carnivore stupid enough to get close to them. The Trees shake, some of the elderly triceratops begin to get nervous as an all too familiar form erupts from the sea of trees. Three functional toes; the fourth toe is off the ground vestigial and just hangs from the foot, two powerful legs, a long stiff tail, two strong tiny arms ending with two fingers, a powerful neck to support its bonecrushing jaws filled to the brim with banana shaped teeth, and on top of its head two forward eyes with great binocular vision; Tyrannosaurus rex, tyrant reptile king. She was not alone, with her was another equally large Tyrannosaurus who was her mate; we will call them Regina and Gorg respectively.
The matriarch of the Triceratops herd bellowed as she swung her horns around to intimidate the tyrannosauruses. The other Triceratopses began to do the same, Regina and Gorg carefully walked around the organized triceratops circle looking for an opening but from they could tell, the triceratops have a solid defense. Regina bellowed at the subadult Triceratops hoping to scare a few them out of their posts but the Matriarch stomps her foot to maintain order in her herd. The Tyrannosauruses though hungry decided that it wasn't worth getting injured, Regina turned her gaze to a herd of Edmontosaurus, she lead her mate towards this new bounty of food while the Triceratopses still kept formation, waited for the two beasts to leave the area... but as soon as they returned to grazing a Dakotaraptor sprinted out and snagged away one of the baby triceratops.
ALIEN VERSUS PREDATOR UNIVERSE
36 Responses to Daily Life of a Tyrannosaurus
Add A Reply
Sign in to add a reply to this topic!