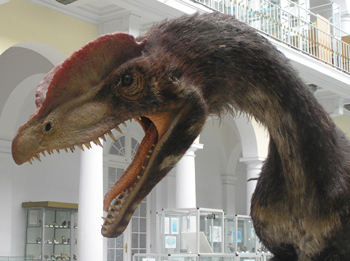 Forum Topic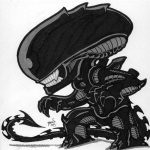 2K
Member
2776 XP
Oct-17-2016 7:15 AM
Hello Scified its me Xenotaris. I wanted to create this forum to help people recognize what is a dinosaur and what is not.
Okay Dinosaur or Dinosauria is a clade of reptilian animals that have their legs tucked underneath them rather than sprawling out. They range from Cold-Blooded to Warm-Blooded, most if not all of them had some feather covering or non-at all like the sauropods.
Dinosauria clade also include the modern clade Avia or Birds as well as the extinct Non-Avian Dinosaurs, but dinosaurs are within a larger clade Ornithrodira which includes the Dinosaurs, their descedents birds, the flying Pterosaurs, the dinosaur's ancestors and ancestral cousins the dinosaurmorphs and Dinosauriformes. Which itself belongs to the larger clade: Archosauria. Archosauria then rests in Archosaurmorph which belongs to the clade Diaspids which includes both the Archosaurmorphs and Ledpidosaurmorphs.
Mosasaurus: Often called a dinosaur in media, but it sadly is not seeing that its far more closely related to Snakes and Lizards which are both under the clade squamata which is under the clade lepidosauria.
Pterosaurs: Often mistaken for dinosaurs but they are far more closer related to Dinosaurs than the Mosasaurus.
Dimetrodon: One of the most erroneous, since Dimetrodon isn't even a member of Diapsid reptiles but rather the Synapsids; a clade of animals that would eventually lead to mammals.
Prehistoric Mammals: Yes some people think that Mammoths, Sabertoothed Cats, and Mastodons were dinosaurs. This is obviously wrong but I had to include it.
Megalodon: Yes people seem to think that Meglodon is a dinosaur since it didn't live with humans but this is obviously wrong since its a shark and not a reptile of any kind, let alone an archosaur.
Birds: This is a dinosaur, since Birds are direct descendants of theropod dinosaurs.
Tyrannosaurus: This is a Dinosaur, under the clade of theropod which includes all carnivorious dinosaurs, a few bipedal herbivorous dinosaurs , and of course birds.
ALIEN VERSUS PREDATOR UNIVERSE
50 Responses to What is a Dinosaur?
Add A Reply
Sign in to add a reply to this topic!