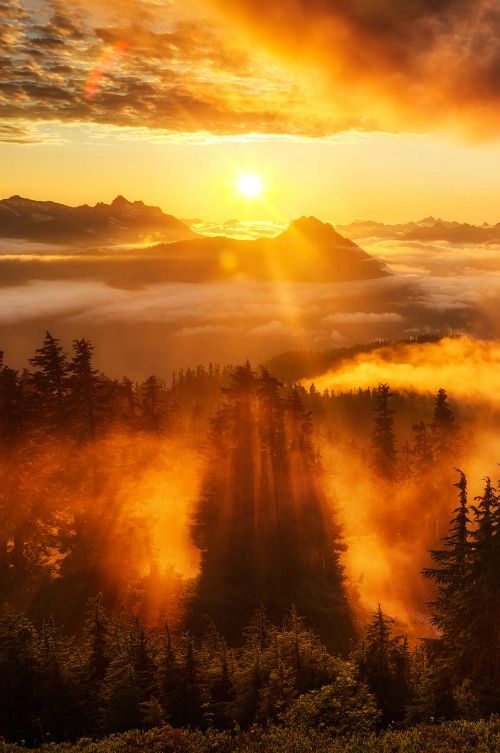 Forum Topic
2K
Staff
3811 XP
Aug-12-2016 6:12 PM
 Chapter 29: Finale on A Forgotten Monument
Fire consumed the land, as lightning impaled the Earth with its devastating bolts, and the waves of fate eradicated those of discord. Thunderstorm bellowed, before charging one of the four berserker-breed rex beneath the colossal mountain of Taghia-Sakhra. The Tyrannosaurus roared, before ramming into the berserker, clamping onto his neck all through out. Thunderstorm successfully knocked the beast to the ground, and as lightning struck in the background and rain fell onto his back, clamped onto his neck—and in an instant broke it. Blood dripped from the lightning-rex, as he looked at his pack with a glare of adrenaline-filled victory. Thunderstorm's pack did battle with the other three, but it was not even a battle for them—as the berserker rexes bellowed in pain, tossed and jostled by the sheer force of Thunderstorm's mate and siblings. The lightning-rex looked up at the towering-mountain of Taghia-Sakhra, and cooed aloud to Tyrance that the blood was all his now.

Tyrance sadly did not hear the cheer, as anger and rage filled his body. Tyrantic's eight tyrannosaurs roared aloud, saliva flying out of their mouths and onto the ground, as their eyes nearly bulged out of their heads in rage. Tyrance, Tyria, Tyron, Tyro, Tyranno, Tyrana, and Tyrani all roared aloud—before beginning the battle for the fate of the Golden-Land. Bits of rock and dust flew into the air, as the seven rex of redemption charged the eight of tyranny. Tyria bellowed and bolted at one of the rex, smashing him with her skull. She grasped the arm of one of the rex with her maw, and tore it off with ease before smashing the minion of Tyrantic's face into the mountain wall, sending blood plummeting to the ground—-as he roared in agony. The Tyrant Queen stomped on the rex's theropod foot, and with fierce precision opened her mouth and sliced the beast's jugular vein with her top teeth—halting his breathing, as he fell to the ground dead.

Tyron did battle with two rex, as blood and rain fell to the ground. The one rex battled the two with unrivaled power, each step leaving large footprints in the rock—as Tyron dodged a clamp from one of Tyrantic's rex, and retaliated with a bite of his own to the tyrant's neck, smashing it to the ground. This display of power was soon shutdown though, as the other rex shoved Tyron with all the might in his body—sending the male rex falling to the ground, bellowing all throughout. The sounds of agony, anger, rage, hate, pain, and disgust emanated twenty-miles away from the battlefield—terrifying away herbivores. Tyro was helping Tyrana fight one of the rex, but the distinctive sounds of his brother in pain immediately pulled the tyrant from the fight. Tyro bellowed, and with a burst of adrenaline charged Tyron atop the mountain. One of Tyrantic's rex took a large rock and rammed it into Tyron's snout, blacking him out for five seconds, but he regained his consciousness, and with his strength clawed to his feet—but this was stopped by the rex he had knocked down, who smashed him back down to the ground with his foot.

Tyron looked up in fear, his mouth agape and teeth falling out, as the two rex stood to their maximum height—and prepared to finish him. Just as one of the rex lowered his gaping maw, Tyro appeared amidst the clambering and smashed right into the tyrannosaur—knocking him off the mountain. Tyron used his massive leg muscles and clambered to his feet, cooing with happiness that his brother saved him. The two joined forces, and turned to face the other rex—who cowered in fear and attempted to flee, but he was trapped, and the edge of the mountain was the only escape route. Tyron and Tyro bellowed aloud, before charging the tyrant—the sounds of flesh being torn from a body and bones breaking under immense pressure were all you could hear. Tyrance, the one true king of the dinosaurs, charged the female rex that led the pack to his location, she had unknowingly caused the downfall of Tyrantic's regime. The one true Tyrant King rammed into the female, but she was a warrior, and did not yield underneath the immense power of Tyrance.

He clamped onto her snout and shook it around ferociously, however the female rex broke free of his hold—and rammed into Tyrance. This attempt to knock over the king failed, as Tyrance tanked the charge and retaliated with that of his own, knocking the female over. The head rex besides Tyrantic groveled on the ground in pain, but her agony was well deserved—considering she was the one who led the T.rex to eradicate herds of herbivores and packs of predators. The military leader's pain was not over though, as Tyrance, with his massive neck and jaws muscles grasped her neck with his jaw and lifted her fourteen-foot tall and forty-four foot long body into the air. The Tyrant King, with all his muscle and determination lifted the female off her feet and held her in mid-air as she roared in fear. Tyrance stomped over to one of the opposing rex, the added weight burning his thighs—but he pulled through, and with all his might tossed the female into another one of the rexes, sending both of them tumbling down the mountain to their deaths.

Tyrance breathed in deeply, but he was not fatigued. Five rex still remained, but their were seven of Tyrance's, it did not look good for Tyrantic. Tyranno, Tyrana, and Tyrani fought with all their strength against three T.rex. Lightning struck the ground, setting the grassy plain aflame—causing a colossal wildfire that encompassed the entirety of the Taghia-Sakhra grassland. Tyranno and Tyrana took on two of the rex. Tyranno clamped onto one of the beast's leg, as Tyrana confronted her face on—and clamped onto her lower jaw, breaking it instantly. The female rex's jaw shook madly as it was broken, but this did not lower her will to live—or her misguided following of Tyrantic, as she smashed her broken jaw into Tyrana's ribs, breaking a few. Tyrana stumbled back, throwing her neck into the air as she released a loud guttural bellow . Tyranno rammed the female into a rock-buildup, destroying the formation, and cutting up the rex's hide while blinding one of her eyes. She looked around dazed and confused, but this subsided quickly, as Tyrani clamped onto her neck and Tyranno smashed his skull into her back—killing her.

Tyrani, Tyranno, and Tyrana all cooed a deep roar of victory into the air, but this was halted—as one of the other two rex bellowed confronting them. Tyranno slowly turned to face them, and snarled almost a smirk—before charging them accompanied by his siblings. The blue-rex, although small, was unmatched with his pure ferocity and unyielding battle prowess. He bull-charged one of the rex, his determined snarl and speed like that of a true warrior, and slid his dagger-teeth down the thorax of the beast—sending blood trickling down the mountain. Tyrana clamped onto the neck of the beast to hold it in place, her auburn-feathers shaking in the wind, as the rex roared trying to escape—but Tyrani shut it up with a powerful holding clamp to his snout. Tyrana let go of the rex, as Tyrani stumbled back and forth trying to break its jaw. Tyrana widened her mouth to its maximum degrees, eighty-five, and dove underneath before clamping onto the fleshy bottom of the rex's neck while Tyrani held on tight to its jaw—the beast didn't live that much longer after that. Tyranno solely did battle with the last of the three, and his battle was quite fantastic. The blue rex never halted walking forward, dodging each strike and retaliating with a bite. Tyrantic's rex was being shoved back, as Tyranno clamped onto his shoulder blade and bit down with all twelve-thousand of his bite-force, making the rex roar aloud in pain.

Fatigue, exhaustion, and blood loss slowed the two tyrants—but Tyranno maintained his speed. The smell of smoke and flame filled the air, as blood and saliva dripped from their maws. Tyranno ducked his head low, and grabbed the ankle of the tyrannosaur and stood up, knocking the rex onto his back, breaking it. Only two T.rex of Tyrantic remained, and fear filled their bodies—as they knew they could not win. One of rex, with dimwitted rage, charged Tyro! Each footstep rivaled the lightning that struck back, as the rex bit the flesh of Tyro—catching him off guard. The tyrannosaur then proceeded to clamp onto Tyro's neck and lifted his thorax up to impale Tyro's ribcage with his vicious finger-claws. Tyron noticed his brother being mauled, and cooed before instantly charging the rex in an attempt to save his brother. Tyron bellowed, but Tyrantic's rex was expecting him to charge, and tail-whipped Tyron directly in his face sending him stumbling to the rocky ground. Tyron rose his head from the ground and looked up to see his brother's neck about to be broken.

Everything seemed to stop for Tyron, as one sole thought emanated through his brain—save my brother. Tyron lunged from the ground, as Tyrantic's rex prepared to clamp onto the neck of the weakened Tyro—and with one last burst of adrenaline charged the rex, clamped onto his neck, and ran with it, sending both of them tumbling off the mountain. Tyro's tired eyes widened, as he released an unmeasurably loud roar at the sight of his brother falling off the cliff. He chirped in fear, as Tyron rolled down the mountain—using the opposing rex as a cushion. Not once did he ever let go of the rex's neck, and with one last hurrah crushed it with his bite, before falling down to his death. Tyrance fortunately did not see this heartbreaking display, as he began a chase up the mountain after his brother. The Tyrant King bellowed, nearly destroying the pathway leading up the mountain with every-step. Tyrantic had been watching the fight like an eagle, and knew his army was dead—and he was next. If a rex could sweat, Tyrantic would be, as he chirped in fear at being trapped on the top of the mountain.

In truth, he was not a warrior king, but a planner—the one with strategies. He had readied himself for his army to demolish Tyrance's, and when they were all but defeated—kill Tyrance. The False King roared aloud, as he turned his body around and bolted for the infamous plateau of Taghia-Sakhra—where his parents died. Tyrance's speed was unyielding, as even though rocks and sharp objects pierced his footpads he maintained his maximum speed of twenty-five miles per-hour. One would never take Tyrance for a climber, yet he scaled the mountain with relative ease—not a single misstep, nor a terrible slip, no; he had expert precision, his vicious toe-claws clinging to every outcropping like a monkey clings to a tree. Tyrantic finally made it to to the plateau. He stopped to take a breather, but this wouldn't last long—as directly behind him, his brother awaited. Tyrance took one final step, his thigh-muscles rippling, before stopping to face the true to name tyrant.

Tyrantic's purple-eyes stared into Tyrance's amber eyes, as it looked as though a stare spoke more than words. Tyrantic cooed into the air, attempting to communicate to his brother. The False King claimed that Tyrance would never kill him, that he had done no harm—and that he should just be let go. Once again, a remarkable display of intelligence. Tyrance's angered snarl dropped into one of contempt, yet he did not reply to Tyrantic's pleading. The charcoal rex spoke to the reddish-brown one again, pleading that Tyrance allow him safe passage outside of Dhahabi'ard. Tyrance finally chirped back in their Tyrannosaurus language, perhaps saying that he valued his family more than redemption—and that he could pass. Tyrantic clucked in glee, and made his way towards the true king. He walked over to Tyrance cautiously, his head lowered to show 'respect'. Tyrance watched his brother carefully, making sure he was not planning anything. Although they were the same height, it seemed as though Tyrance dwarfed Tyrantic—as the false king made his way towards the pathway down the mountain.

Tyrance turned to face him as he neared the edge, his tail swinging back and forth. Tyrantic recognized that his rule was over, and preferred exile rather than certain death. The false king finally made it to the exit, but just as he was about to trot down, lightning struck the plateau! Tyrance bellowed in shock, as an immensely powerful bolt of electricity impaled the plateau—jostling the two rex around as though they were Anzu, or Acheroraptors. Tyrance crouched to the ground in an attempt to not fall over, but this would not save him. The waves of opportunity flooded Tyrantic, as he knew his reign was over—but perhaps he could halt his brother from ever surpassing him. The False King charged back to the plateau, and as Tyrance bellowed in fear shoved him with his skull. Tyrance was rocketed back to the edge of the plateau, as even more lightning bolts struck the flat landmass, sending him over the edge—but he clung on with his arm claws.

Tyrantic bellowed like laughing, and trotted over to Tyrance—preparing to finish off his brother. For the first time he had the upper-hand. In truth, Tyrantic had enough, and wanted Tyrance's death more than anything else—his blood on his maw. Tyrance stared at Tyrantic with one of knowledge that he had failed, and was content that he had letdown his pack. Tyrantic took the time to, before killing Tyrance, stand to his maximum height and loom over his brother—just to assert that he was the dominate one. A rush of emotion filled Tyrance's body, one of fear of dying, fear of failure, but most importantly—never being able to see his mate again. In these last moments, he allowed these feelings to subside—and for himself to be content with only one, ending Tyrantic's reign. The true Tyrant King bellowed, before clamping onto Tyrantic's leg and yanking him off the mountain as he bellowed in shock and fear.

The two greatest tyrannosaurs to ever exist plummeted down a hill on the mountain, luckily not falling down directly. It was as if fate wanted their lives to continue, as Tyrance and Tyrantic tumbled and rolled down a slope on the mountain—roaring as rocks impaled their flesh, leaving a trail of blood down the hill. Tyrance fell through a rock-blockade, and another, before plummeting directly into a large river—of which saved his life. He gasped for air, but their was none—as he struggled underneath the water. The king of the dinosaurs had never been underneath the water, and this feeling terrified him—as he squirmed and tried his hardest to swim to the top, but to no avail. It seemed as though the Tyrant King gave up for the last time, as he halted his struggle—and merely fell to the bottom of the very deep river. Visions filled the predator's mind, ones of Tyria, his siblings. More began to appear, some of pain and agony in a flame-filled land, one of him battling an upright pale-white monster. There was another one of him battling an erect-walking savage beast, one who shared the same coloring as the previous one—yet they battled near a collapsed cliffside, whilst the other was within a fissure. The battle took place next to the skeleton of a theropod whose skull was dragon-like in appearence, and his spine was aligned as if he walked upright.

These visions shocked the king awake, continuing his struggle for survival, as he ferociously kicked his feet underwater, releasing a loud exhaling snort from his nostrils. Tyrance suddenly began to churn his legs up and down, propelling him through the water. Every kick from his powerful legs was like that of a motor, pumping back and forth as he rocketed to the surface. The greatest dinosaur to ever exist, the one king, groveled from the top of the surface and up to the water's edge. Tyrance panted very quickly, trying to regain his speed and strength. He was riddled with scars, some open, some closed; the wildfire that the lightning had started was extremely terrifying, as it created immensely large walls of flame and smoke as far as the eye could see. Tyrance struggled to his feet, blood dripping from his chest and thighs. His muscular neck looked aimed his skull left and right, trying to find Tyrantic. Tyrance finally looked up to his right atop a hill to see Tyrantic, whom had already made it outside the river. Tyrance had enough. He rose to his tallest before bellowing the most ear-piercing, dominant roar you could ever hear.

This roar sent chills down Tyrantic's spine, but he did not waver—as he had forged a plan. The False King cooed deeply back to Tyrance, signaling for him to come and end his regime. Tyrance took the bait, and his calfs flexed as he began a stride that transformed into a run. The Tyrant King bolted after Tyrantic, who took off into the flame. Tyrance chased after Tyrantic, baring his teeth through the liplike covering that shielded them. Tyrantic ran through the fires of which seared his wounds, cauterizing them—and they did the same to Tyrance, as he chased Tyrantic in a desperate attempt to end the battle. Tyrantic had a plan, he would lure Tyrance to the dreaded fern-forest of which they trekked through when they were juveniles. From there, he would attempt to leave his brother to die in the quicksand that riddled the forest, it was his only shot. The two ran through the fire-covered plain, ash and smoke coating their bodies in a disgusting crispy texture. After thirty-seconds of running, they both finally saw it in the distance, the fern-forest.

The Tyrant King chased after the False King, as the fern-forest appeared ever so closer, as though it was a magnet pulling them into its unescapable grasp. A thick coating of mist surrounded the interior and exterior of the looming forest—as its landscape, dominated solely by towering ferns, appeared. Tyrance eased his run into a light-jog, as Tyrantic disappeared within the mist. The alpha rex looked around anxiously for his brother, but he did not see him. Quicksand filled with corpses of not so lucky dinosaurs riddled the forest, covering most of the land. It looked so different compared to when Tyrance was a child, him having been so small he only saw a fraction of the true terror. Finally, a snort entered Tyrance's ears. He looked towards it to see Tyrantic, standing at his maximum height down a small pathway. Tyrance tail swung from his right to his back, as he faced his tyrannical brother, adrenaline rushing through his veins. Tyrantic gulped in fear, before releasing a loud coo—translated to a readiness to end the eighteen-year bout for dominance

Tyrance's muscularity peeked through his reddish-brown scales, and his dark-brown fur-like back feathers shook in the wind. The one true Tyrant King looked down, before tossing his head up and releasing a bellow of pure dominance—but it was equalled by Tyrantic. Lightning struck the ground, shaking it, as the rain stopped its journey from the sky to the ground—and Quetzalcoatlus stopped to watch Tyrance fight Tyrantic, the battle too many years in the making. Tyrance stomped his foot into the ground and flexed his muscles, as Tyrantic did the same. The wall of fire encompassed all exits outside of the forest, as though fate was stopping any escape from this bout. No, there was no stopping it this time, no parents to hold them back. This was it—the final battle, Tyrance vs Tyrantic.
Chapter End. Final Battle will be on its own topic.
Chapter 28: Last Shot At Redemption
Rain fell from above, washing away the peace in the land—as lightning fried trees and sent tremors through the ground. The storm's ferocity had only grown worse, as the tides of change filled the air, the end was to be. Tyrantic rested within a cave, sheltered from the storm, and feasting upon three Pachycephalosaurus carcasses. The tyrant lowered his maw to one of the corpses, a male—with a noticeably large head-crest, meaning he was fully grown. Tyrantic grasped the body with his snout and tossed it into his throat, breaking it to pieces and swallowing with one loud crunch—there was no chewing. The alpha-female that led the four rex to Tyrance's location appeared within the false king's cavern. She chirped, informing her king that four Tyrannosaurus were looking for any intruders. Tyrantic, with his abnormal level of intelligence bellowed aloud, believing his rule to be secured—but it was not.

Tyrana nuzzled her sister Tyrani, as they mourned the loss of yet another brother. Their feather-coverings were wet because of the rain, as the two slept next to each-other—releasing mourning coos into the air. Tyrantic heard these sounds, but believed them to be nothing more than peasants—he had no care for his siblings, only that they follow him. He truly had gotten everything he wanted hadn't he? The head position of the pack, dominance over his siblings, and full control of the Golden-Land. Yet, with all his bluster and power—he still had fears as any tyrant would; fear of being overthrown, a coup, uprising, any means of him losing his power he feared. The king's eight Tyrannosaurus stood perched themselves atop outcroppings like eagles on the hunt, analyzing for any tracks—sniffing for any scents. As much as Tyrantic wished to prolong his rule, he had to face his nightmare—and there was no escaping that fate, as the distant conifer-forest thundered with footsteps.

The forest was an intimidating figure for any animal, with its towering conifers and thick vegetation—but now particularly, nothing wanted to be in it. Five Tyrannosaurus, led by one alpha—one king of all dinosaurs, Tyrance, prowled. The combined sounds of all of the rex walking rivaled that of the lightning, as they marched through the dense thicket like knights being led into a battle. Tyrance's amber eyes were filled with determination, as his brow was squinted, and his snout snarled. For once in his life, Tyrance actually felt a pain of true failure, like he had forgotten his father's legacy—allowed it to be tarnished and tainted. These emotions consumed the true king, forcing him to bellow aloud in anger and regret—scaring his pack, as he sped up faster. The Tyrant King hiked about the forest at a clocked in fifteen miles per-hour, this was a lot for a small jog. He charged with little care through small trees—destroying nests built by other animals.

Tyrance cared about nothing else rather than facing his tyrannical brother, restoring what he had abandoned—he couldn't wait any longer. Each of the T.rex's footprints were heavily imprinted in the sludgy mud, leaving behind the memory of a day to never be forgotten—the day of the king's return. The pack hiked up a hill, down a small gorge, before coming upon a river. Tyrance and Tyria knew of this river, having crossed it once or twice before. The alpha-female took a drink from the river's water, before cooing that there was a collapsed conifer which they could use as a bridge. Tyrance made no reply, simply walking to the location and clawing atop the conifer—which tilted to the top of a cliff, the last obstacle before the Golden-Land. He didn't even check to see if the others followed, trusting that they did, as he ventured atop the tree and to the cliff—anger in his amber eyes. Rain chilled the backs of the tyrannosaurs, making Tyranno and Tyro quiver in chills—but they were T.rex, they did not allow any sort of pain to phase them truly.

The four rex caught up to Tyrance, who looked into the distance with a blank stare. Tyria glanced at her mate, worried for his mental state, before looking into the distance and seeing it—the legendary Golden-Land. Yet, this 'Golden Land' did not look the same as she was told. Its so called wonderful streams and colossal waterfalls were instead a barren river, and a water spout. The colossal mountain of Trinity Peaks loomed over the land with an almost frightening stare, as if it was alive. There were no herbivores on the vast grassy plains, only colorful flowers—that were drowned out by rain. Tyria and Tyranno looked at Tyrance, but he did not look at them—his eyes were occupied on his once home. Words cannot express the pain and anger Tyrance felt within him, only a roar could—as Tyrance lowered his head, before filling his throat with air and releasing a terrifying bellow of pure alpha-dominance, that reverberated across the entirety of Dhahabi'ard. His neck widened and shrunk due to the power of the coo, that was so deep and guttural it frightened Quetzalcoatlus and Pteranodons high in the sky. The Tyrant King finally spoke to his pack, chirping aloud for them to follow him to the depths of the nearby conifer-forest.

The five rex trotted down the large hill they were on, and walked down a slope made of sand to reach yet another forest. Tyron shook his tail, a sign that he was scared—and so was his brother Tyro. Tyranno knocked into Tyron, practically telling him to get tougher. The omega of Tyrance's pack hissed at Tyranno, but it didn't phase the blue rex—Tyron was no match for a brother of Tyrance. The air was hot and sticky, as lightning struck above the clouds and bellow—illuminating the night-consumed land with every strike. Tyrance knew very well of this particular forest, it having been the one that he used to escape Dhahabi'ard when his parents were killed. The alpha stopped, his deep breath halting all sounds. He looked down at the muddy ground, and saw theropod footprints—one after the other, as though the predator was running. Tyrance closed his eyes and took a deep sniff to catch a scent—and he breathed in his own. If a Tyrannosaurus could cry, he would have. Tyrance is an alpha, and never shows pain or weakness—as with a hearty roar he told his pack to continue.

The false king tried his hardest to rest on Taghia-Sakhra, but he could not as fear filled his body. His Tyrannosaurus ears, which allowed him to hear up to five-miles away, picked up the reverberations and bellows of an unmatched beast, he knew he couldn't evade it anymore. After forty-minutes of pure running, Tyrance's pack came upon something strange. Four Tyrannosaurus footprints, and one was larger than the rest. Tyranno and Tyron lifted their liplike coverings and growled in preparation, as four of Tyrantic's rex may have caught onto them. Tyrance made no sound, as he identified with his nose the rex being of another breed. Tyria too bared her teeth, and widened her stance prepared for a battle—as the iconic thundering footsteps of Tyrannosaurus loomed through the forest. Tyrance placed one of his theropod feet behind the other, and flexed his leg muscles—readying them for an opposing rex. Four loud roars bounced off the conifers, finally making sure that there were other tyrants in the forest.

Tyrance bellowed back his roar, which quieted the coos. Suddenly, as lightning struck in the background, four Tyrannosaurus encircled the pack. Tyrance's pack cooed back with anger at the four, as the new pack walked around them. Tyrance analyzed the obvious alpha, as he analyzed him back. The alpha of the new pack had a long scar, or birthmark in the shape of a lightning bolt running down his torso—and various scars and toothmarks signified he had done battle with other predators. Tyrance cooed at the alpha, perhaps asking him what his name was. The alpha stopped his stride. His face almost looked as if he was relieved that Tyrance was not immediately attacking him, and he chirped his name—Thunderstorm. Tyrance was confused by a none Tyranak lineage T.rex living in the Golden-Land, as he bellowed almost diplomatically that his pack meant no harm to his.
Tyria, Tyron, Tyro, and Tyranno all looked at Tyrance—confused that he wasn't immediately fighting these opposers. Truly, Tyrance wished to save his strength for Tyrantic—not to waste it on none important T.rex. Thunderstorm's pack revealed their names, Earthquake, Emerald, and Nightblade. They were preparing to storm Taghia-Sakhra and kill Tyrantic, but Tyrance was already doing that job. Thunderstorm and his pack cooed, asking why Tyrance was doing this—but he did not reply. He bellowed aloud for Thunderstorm to step out of the way, as his pack went and confronted the false king. Thunderstorm growled, feeling undermined by Tyrance, and charged. Each step sounded like the lightning going on behind them, as Thunderstorm ran at Tyrance—but his stride was halted almost instantly by the true king, who turned his head to face him and merely stared into his eyes. This halted Thunderstorm, as he almost saw the anger and regret in Tyrance's soul

Tyrance's and his pack from there continued their trek through the forest for a bit longer, before it stood before them, the beastial mountain. Tyranno breathed in with preparation, as Tyrance stared in awe—he had forgotten how magnificent Taghia-Sakhra was. Tyron and Tyro crouched beneath large fern bushes. The brothers stomped their feet and curled their toes, signaling that a plan needed to be made. Tyrance, however, was consumed by awe and memory—and without any contemplation, or word from his pack, walked outside the forest. Tyria chirped quietly to Tyrance, telling her mate to stop, but he did not listen. Lightning brightened up what was not, as Tyrance stomped to the front of Taghia-Sakhra. Tyrantic was asleep, but this changed rather quickly, as one of his scouts bellowed that there was an unknown reddish-brown Tyrannosaurus outside the mountain.

Tyrantic slammed his head against one of the cliff's walls, before blinking his eyes in fear, and gulping with worry. The false king walked outside of his cavern, and to the very pinnacle of Taghia-Sakhra. The level of fear that filled Tyrantic's body was unimaginable, as his body made him bellow almost unintentionally. What stood before him was his brother, not Tyranno, no, Tyrance—the true tyrant king. Tyrantic snarled and hissed, as Tyrance looked at him with no expressions—just a determined stare. Tyrance cooed aloud what could be translated as him believing Tyrantic to be dead, and understanding how much of a mistake he had made three-years ago. Once again, this level of intelligence is outstanding. Tyrance's pack appeared from the forest, vowing to stand by their alpha—all the way through. Tyrantic hissed and snapped his jaws at Tyranno, believing his brother to have died due to injury.

From the mountain's depths, Tyrana and Tyrani hiked to the longest perch and joined Tyrantic. The sisters looked at Tyrance, and bellowed with happiness and glee at seeing their brother again. They attempted to run down the mountain, but were halted by three of Tyrantic's eight warriors, who hissed at them. This show of cruelty and torment enraged Tyrance, forcing him to bellow his unrivaled alpha roar, which terrified Tyrantic. The false king had enough. He bellowed aloud, awakening the four T.rex he had on the prowl—telling them to initiate the attack. Tyrance and his pack looked behind them in shock to see four Tyrannosaurus, large and muscular, burst from the forest—they knew Tyrance was coming. These T.rex were of a particular breed, one of berserker-like power and unrivaled persistence. Tyrance's pack bellowed, and readied their bodies for the battle—adrenaline filling their limbs, as Tyrance stared at one of the berserkers with almost a mocking grin, he had no fear.

However, from the forest, Thunderstorm and his pack appeared! Tyrance looked in shock, as Thunderstorm bellowed for him to battle Tyrantic—while he would deal with the four berserkers. Tyrance snapped his jaws in agreement, as one of the berserkers charged him—but it was no match for the Tyrant King, who slammed his face into the berserkers, breaking the beast's lower jaw, and knocking it to the ground. Tyrance bellowed for his pack to scale Taghia-Sakhra, this was it. Tyrantic roared aloud with anger and fear, before ordering his eight T.rex and sisters to join him. Tyrana and Tyrani began to jog towards Tyrantic, but stopped their stride, as if fate yanked them back. Thunder filled their ears, as they turned to face Tyrance—whom scaled his childhood home with ease. Tyria and Tyron lagged behind, but Tyro and of course Tyranno scaled it with quickness only matched by Tyrance. Tyrana and Tyrani made their decisions, and with a loud growl trotted over to Tyrance—their true king and brother.

Tyrantic smashed his feet into the ground and bellowed in a tantrum, as Tyrance roared at his once brother—who he would have risked his life to save. Tyrantic's eight tyrannosaurs formed a blockade in-front of their king, as he marched to the top of the mountain. Tyria and Tyron made it to the top, and watched as Tyrana and Tyrani nuzzled their brother—having not seen him in many years. The true king was outnumbered, and bellowed at his eight opposers—who were smaller than him, yet bellowed with the force of a tsunami. Thunderstorm and his pack confronted the four guardian rex, prepared for battle—as lightning struck a tree, setting fire to the grassy plain. Tyrance bellowed aloud, as Tyrantic charged to the pinnacle of Taghia-Sakhra—the flames in the distance heating up the battle. This, was, it.
Chapter 28 end.
Chapter 27: The False King's Final Mistake
It felt as if the Golden-Land shook with every step, as Tyrantic stomped down Taghia-Sakhra. The False King, with all his pride and tyrants at his disposal, feared one thing—his brother. Tyrantic knew there was only one true alpha in the Golden-Land, and this was a knowledge his theropod brain couldn't compute. A large storm brewed in the distance, covering the sun as it fell down beneath the Earth, just like Tyrantic's rule. Tyrantic trotted down to reach the nesting grounds, where his siblings and now eight T.rex rest and train. The King bellowed loudly, grasping the attention of the eleven tyrannosaurs, whom looked at him with fear. Tyrantic's crown like orange-feathers blew in the wind, like the leaves of a fern in summer, as he roared to his colony that war was approaching.

Thunder filled the ears of the rex, as Tyrantic bellowed for four T.rex to hunt down and kill the alpha that he was told of. This was easy enough, as all of them had caught the scent of the beast. Three of the rex Tyrantic called upon were just infantry that joined him, but one of them was Tyranno, his youngest brother. Tyrantic snapped for the blue rex to face him and bow in submission. Tyranno's instincts fought against this, as he refused, but was eventually egged on with the threatening of five T.rex snarling next to him. Tyrantic hissed in pleasure with this, before chirping in their T.rex sounds and gestures for Tyranno to follow the scent and be the chaser of the hunt—a job that meant he would run around their enemies and nip them. Tyranno rose to his lean legs, and roared at Tyrantic in disapproval—he knew that the scent was Tyrance, and refused to help kill his brother.

Tyrantic roared in anger at this, his purple eyes eyeing up Tyranno, who looked at him with authority not fear. Tyrantic's angered growl turned into a snarl of contempt at his brother. The False King turned his back to Tyranno, who looked at his brother with a blank stare. The egomaniac looked down at the ground with a stare of calculation, that slowly turned into one of rage—as Tyrantic turned back, rage and pride in his eyes, and smashed Tyranno's face with that of his own. Tyrantic bellowed Tyranno to battle him, and if he were to win Tyrantic would desist his rule, and allow Tyranno to assume throne. Tyranno snorted back that he did not wish to fight him, but Tyrantic snapped his jaws, and began the battle. Tyranno flexed his muscles, as the two combatants circled each-other, clamping their jaws and stomping their feet.

Tyranno deep down had enough of his brother's rule, and anger accompanied by sadness filled his body, as he began to attack his brother madly. Tyranno charged Tyrantic and rammed into the king, sending him stumbling back shocked, but barely effecting him. Tyrantic cooed with excitement, before clamping onto his brother's thin neck and shaking it around vigorously. Tyranno bellowed in pain, but he pulled through and stomped his brother's foot, giving him the second of time to smash his head into Tyrantic's. Lightning struck in the background, reverberating against the mountainside, as Tyranno bellowed, and the two clamped and clawed each other, roaring in pain and anger simultaneously.

Tyrantic rammed into Tyranno, knocking the rex on his side. Tyranno looked directly into Tyrantic's eyes, before kicking his brother with all his might, knocking him into the mountainside. Blood dripped from Tyrantic's side, as he gasped for air in pain—while Tyranno rose to his feet, barely scraped. Tyrantic slowly turned to face his brother, as the ten other rex looked in shock at what was next. Tyranno stared into Tyrantic's eyes. He saw the hatred and discord of his soul, which terrified the blue rex, but not as much as what was next. The False King stared into Tyranno's eyes, as pure hatred consumed his body. Thunder crackled in the background as Tyrantic charged his brother with all his anger and rage, ramming into him with the might of three rex. Tyranno gasped for air as he was brutally mauled by Tyrantic, this was it for him.

Tyrantic bellowed in anger and fear, as he clamped onto the snout of Tyranno and pulled back, scraping it and tearing off teeth before shoving his brother over. The blue rex groveled on the ground, barely breathing—as Tyrantic stomped over and placed one of his large feet on Tyranno's pelvis. He slowly began to apply pressure, breaking his brother's ribs one-by-one to ensure as much pain as possible. This, this level of intelligence in war is unrivaled, this beast is a monster. Tyrana and Tyrani charged Tyrantic attempting to stop the killing of their brother, but they were halted by three beige T.rex who pulled them back with force.

Tyrantic looked at Tyranno; the monster lowered his neck and placed his face against Tyranno's, before bellowing his loudest most guttural roar, nearly shattering the blue rex's eardrums. The False King then clamped onto Tyranno's neck, before tossing him down a slope, sending him rolling down the mountain—breaking even more bones. Tyranno hit the muddy ground, blood dripping from his face as rain began to plummet from the heavens—and thunder filled his near-deaf ears. He stumbled to his feet, his tail dragging on the ground barely maintaining balance, as Tyrantic and his infantry--not including Tyrana and Tyrani, bellowed madly a loud exile—just as Tyranak and Tyrance had done to him so long ago. Tyranno quivered, as he held his broken leg up next to his body—he had lost almost all feeling in it.

Tyrantic released a low growl that only T.rex could hear, communicating that if he did not flee far away he would be hunted and eaten. Tyranno looked up at his once home one last time, before looking into the nearby forest—and with what was left his strength limping within it. Tyrantic's rage was like that of one-thousand suns, and his happiness was like that of an infant trike—childish and arrogant. Little did the "King" know, this display of dominance would be his last. Tyranno limped through the lush-green forest as fast as he could, emotion and anguish filling his body. He trekked through the conifer-forest, drinking from streams and hiking over dirt mounds. The blue rex finally rested atop a hill, which led out to a nearby mesa and arroyo—a place he could live out the rest of his days.

No, no this was not how Tyranno wanted to live. The most determined of Tyranak and Tyranoa's lineage rose to his broken feet; he lifted his snout into the air and took a deep sniff, catching the scent of his long lost brother—the true king, Tyrance. Rain fell down the leaves of the forest, dripping onto Tyranno's back as four bolts of lightning struck in the background, almost as if fate was pressuring him to keep moving. Tyranno knew what he had to do, and with what strength he could muster the T.rex began a journey towards his brother—he was the last chance at peace. A few miles north, Tyrance and his pack are hiking. The pack moved through the forest with haste, as night was approaching and they needed a home. Rain plummeted onto the T.rex's backs, as Tyrance chirped for them to scout a rather large outcropping that peered outside the forest.

The alpha T.rex snapped his jaws, signaling Tyria towards him. Tyrance released a series of low growls to her, communicating that he was leaving for a hunt. Tyria snorted back that she would assist him. The alpha-female bellowed to Tyron and Tyro to watch guard of their new nesting grounds, as the omega and beta had secured the hill. Tyrance began a fast hopping jog, each step reverberating through the whole forest, as Tyria sped up—catching up to her mate. Tyrance looked back and saw Tyria about to close in on him, and in a sort of loving-game he jogged even faster—forcing Tyria to speed up. Tyria cooed, similar to laughing, as the two began to run, with Tyrance maintaining the lead. The two ran through the forest with expert sprinting prowess, dodging conifers and ferns—dashing across streams and around boulders.

As night approached, glazing the land in a dark-purple hue, firefly-like insects began to float about—brightening up the darkened world. Tyrance bellowed with ecstasy and happiness, terrifying away some of the flies, as the two T.rex blissfully ran through the forest. A downward sloping hill appeared in the distance; Tyrance and Tyria had seen the hill already, as T.rex eyes can see up to five-miles away. Tyria approached Tyrance in hot-pursuit, running close to her max speed. The Tyrant King slowed down his stride, and began to trot down the slope, making sure not to trip. Tyria slowed down only a little, as she approached the hill, taking Tyrance off guard. The slope was made of mud, so if they were to fall no bones would be broken—unless they smashed onto the ground beneath. Tyria knew this, and like a pouncing Dakotaraptor ran down the slope at max speed and knocked into Tyrance—sending the both of them tumbling down the hill as Tyrance roared in fear.

The two tumbled, and fell down into the magnolia bush. Tyria chirped to Tyrance, and he clucked back, assuring that he was okay. The firefly-like insects fluttered around, illuminating the world that was now encompassed by darkness. Tyrance and Tyria looked into each-other's eyes, before nuzzling. Tyria licked the right-side of Tyrance's snout, and he nuzzled her back. The two walked over to another river, and lied down next to it—the darkness practically camouflaging their hide entirely, but night-vision allowed them to see each-other. Tyrance took a sip from the water's edge, gulping loudly as Tyria rested her head at the top of the creak-bed. Tyrance chirped to Tyria that they would rest for a bit, before continuing the hunt, but the alpha-female was way ahead of him. As Tyrance prepared to sleep, a loud sound emanated from the bushes.

The Tyrant King immediately lifted his head up, analyzing the nearby bushes like a regal eagle. He did not hear it again, but just as Tyrance lowered his head the booming sound reverberated yet again. Tyrance nudged Tyria, awaking her—he did not want to risk an ambush. The booming sound only got louder, as lightning struck in the background and rain ricocheted off the rex's backs. Tyrance had enough—he rose to his feet and bellowed a loud roar of authority. Tyria too rose, but she was taken aback, as like lightning a Tyrannosaurus ran through the bushes! Tyria roared in fear, but Tyrance did not—he had been expecting this, and was well prepared. The ambushing T.rex did not charge them, it stopped once it had revealed itself.

Tyrance did not charge the tyrant, something was—familiar about it. The true Tyrant King roared loudly at the newcomer, and was met with a roar back. The T.rex's roar was too familiar, so was his scent, and coloring—Tyrance knew immediately. Tyria stared with confusion, as Tyrance ran up to the ambushing T.rex and began to nuzzle and hug him with his neck. The new-coming rex was none other than Tyranno, but he did not look the same. He was favoring his left leg, and his face was dripping blood—three of his front teeth were missing as-well. Tyrance released deep growl, translated as him asking Tyranno why he was so injured. The blue rex clucked back that the Golden-Land was ruined by none-other than Tyrantic. Tyrance mouth became agape, as he backed up from his brother, cooing with confusion—Tyrantic was suppose to be dead. Tyranno stomped his feet, asserting that it was Tyrantic, and he had destroyed Dhahabi'ard.

Tyrance lowered his head and closed his maw, staring at the ground with a look of sadness—and confidence. The Tyrant King rose his head and faced Tyranno, as Tyria stomped over to him and awaited his next move. The Alpha snorted to Tyranno that it was time, as his brother snarled in agreement. Tyrance left the magnolia grove, his massive feet leaving footprints in the mud and crushing the flowers. He walked to the edge of a cliffside, and with all his might—all his father's strength, bellowed the loudest most dominant roar he possibly could, shaking all of Hell Creek and reverberating across the Golden-Land. Tyrance breathed in deeply, but his strength was at its maximum, as the true king roared for Tyria to signal for Tyron and Tyro to get up. Rain fell off Tyrance's muscular back, as he breathed in deeply, and lightning struck in the background—illuminating his body from the darkness of night.

Tyria growled back, before hiking up the dirt-slope and bellowing to Tyron and Tyro—awakening the brothers from their much needed rest, but Tyrance had done that already. Tyranno trotted over to his brothers, bounce-walking off his toes to achieve a faster speed. The blue rex cooed to Tyrance, who did not respond; the Tyrant King marched down back to the magnolia-grove, Tyranno strolling close by, and awaited the arrival of his pack. The moon was full in the distance, but was covered by a thick sheet of clouds the storm had created—as Tyria, Tyron, and Tyro appeared at the top of the hill. The mere sight of thee Tyrannosaurus was terrifying to nearby animals, scaring away Acheroraptors and various birds. The three rex hiked down the hill and regrouped with their alpha, although Tyron and Tyro were confused by the sight of Tyranno.

Tyrance bellowed loudly into the air, as the rain only got worse—and lightning shook the Earth. This was it, there was no stopping Tyrance's wrath, he was taking Dhahabi'ard back. Tyrantic heard the true king's roar, and immediately bellowed for four of his T.rex to encircle Taghia-Sakhra—looking for any intruders. Tyrance and his pack all roared a deep guttural coo loudly into the air, their neck expanding briefly from the pressure, before charging into the forest—headed directly for the towering mountain of Taghia-Sakhra.
Chapter 27 end.
25 Responses to Tyrants Chapters 27-29
Add A Reply
Sign in to add a reply to this topic!