Forum Topic
Noob
Member
0 XP
Sep-18-2013 3:08 AM
I am loving the show of ANCIENT ALIENS on History 18 . its an amazing theory on the aliens existence in past Present and future
2 Responses to Ancient Aliens
Atman
Admin
21937 XP
Sep-20-2013 12:36 AM
I'll find myself watching that quite often as well. The theories can be quite intriguing, you're right. Like how temples were built on the side of a sheer rock-face or mountain, while using 5 ton slabs of rock, finely shaved to exact measurements. It truly is mind-blowing to think of what ancient cultures were capable of, whose to say they didn't get any "help"? ;)
Alien: Romulus - New Alien Movie Coming Soon! Visit Alien-Covenant.com for more info!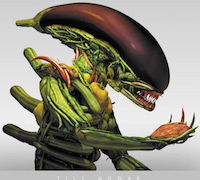 2K
Member
2674 XP
Sep-21-2013 10:07 AM
LOL I've become quite addicted to Ancient Aliens! It really is very interesting, whether you agree with the theories or not.
"Let The Cosmic Incubation Begin" ~ H.R. Giger
Add A Reply
Sign in to add a reply to this topic!