The new Kong: Skull Island has officially dropped! Clocking in at over 2 and a half minutes, this trailer packs a ton of new footage which we will cover more extensively tomorrow. New monsters ranging from the "Skull Crawlers" to giant spiders are revealed. King Kong however comes across as more of a protector of man, rather than a Monster hell bent on mankind's destruction. Watch the video below and be sure to let us know what you think! We will be uploading a ton of screenshots to the gallery soon!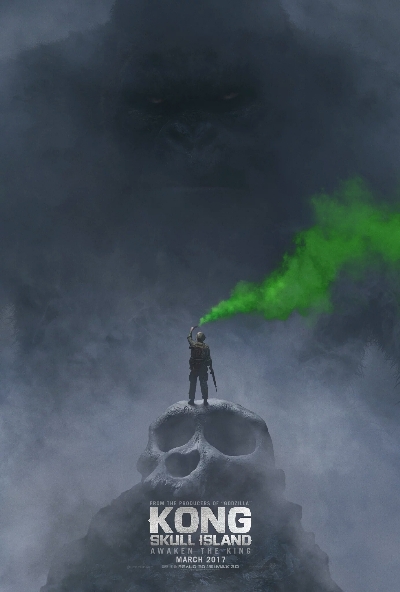 Kong: Skull Island March 10th, 2017
More about Kong: Skull Island (movie)
Kong: Skull Island is a new King Kong film set in the new Legendary / Warner Brothers / Universal Pictures Kaiju cinematic universe. Acting as a blood relative and somewhat of a sequel to 2014's Godzilla, Skull Island will introduce King Kong like never before.
Official Synopsis:
In March 2017, the producers of Godzilla transport audiences to the birthplace of one of the most powerful monster myths of all in KONG: SKULL ISLAND, from Warner Bros. Pictures and Legendary Pictures.
When a scientific expedition to an uncharted island awakens titanic forces of nature, a mission of discovery becomes an explosive war between monster and man. Tom Hiddleston, Samuel L. Jackson, Brie Larson, John Goodman and John C. Reilly star in a thrilling and original new adventure that reveals the untold story of how Kong became King.
Directed by Jordan Vogt-Roberts, Kong: Skull Island's release date is March 10th, 2017.
Stay up to date with the latest news on Kong: Skull Island by liking Scified on Facebook and by following us on Twitter and Instagram! Also, consider subscribing your email to our Kong: Skull Island blog for instant notifications of when new posts are made!
Written by Chris
Published on 2016-11-16 21:07:08