Average User Rating: 5 / 5
Worldwide Box Office: Not Yet Calculated
Directed by Taika Waititi, Thor: Ragnarok is a Marvel Studios movie based on a screenplay by Eric Pearson, Craig Kyle, Christopher Yost, Stephany Folsom.
Thor: Ragnarok Trailer
Thor: Ragnarok Release Date
The release date for Thor: Ragnarok was November 3rd, 2017.
Thor: Ragnarok Plot
Thor, held captive on the planet Sakaar without his hammer Mjolnir, must win a gladiatorial duel against an old friend—the Hulk—in order to return home to Asgard in time to stop the villainous Hela and the impending Ragnarok, the doom of the Asgardian civilization.
Thor: Ragnarok Poster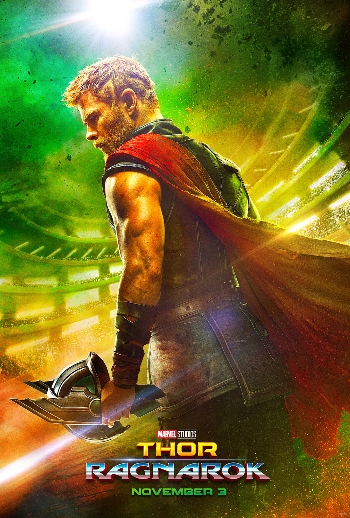 Thor: Ragnarok Cast
Chris Hemsworth
Tom Hiddleston
Cate Blanchett
Idris Elba
Jeff Goldblum
Tessa Thompson
Karl Urban
Mark Ruffalo
Anthony Hopkins
More Thor: Ragnarok Trailers
Thor: Ragnarok News Articles
User Reviews